Wednesday, March 21, 2012
When I have tried to show potential clients links with working interfaces- the claim has sometimes been, it does not work. As I have indicated in the past-- all of my interfaces work from my vantage point.
That said, I have been doing some research into server moves for qisoftware.com and hosting-q.com in the year 2009-- that I am wondering has not caused me problems insofar as getting proper credit with affiliate interfaces. The server moves or migrations were done by my web hosts and only the qisoftware.com move required I change name servers.
The two posts I am referencing:
Here is a screen grab of the current hosting IP for hosting-q.com which looks nothing like the new IP LunarPages said I would need when they migrated the server. The one LunarPages sent started with 67...
Why is this important-- that the two IP hosts do not agree? First of all you can see that the one listed with Enom is the original-- the one before the migration-- but I had to change software interfaces that I run on hosting-q.com to the other because they would no longer work with the original. This looks bad. You will note I cannot change the hosting record. But I think this is automatic based on the nameservers. What I can do is change the custom nameservers. Here are the two screen grabs from enom showing the custom name servers I use for hosting-q.com.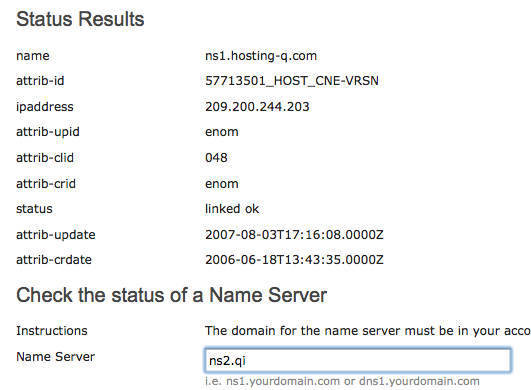 I simply do not quite understand why when LunarPages informed me in late December 2008 that my servers would be migrating in early January 2009-- why the new IP 67... had to be used with my existing interfaces. I also remember it worked for a moment but I had to change the interfaces within days of the migration. I thought this was always odd- and wanted Federal investigators to have what I have in case they had not checked into it themselves.
My interfaces should work no matter who is requesting a page. My feeling is that they are only seen by local U.S. residents. The flag is the Amazon Affiliate Interface I have been using since January 2012, with my personal blog and WiredPages to show the FBI an issue with fraud. The numbers from Amazon simply look incorrect and I am searching for possible reasons.
Both Amazon interfaces [one for my personal blog and the other for WiredPages] are hosted on hosting-q.com. I do this to protect QiSoftware and since QiSoftware/Regina Thomas own the registration for both domains-- it should line up. It really is not but more importantly neither are Amazon's numbers. I am hoping to help them find the problem in this loud public forum.
Since you can see from the hosting record-- a redacted IP address which is the original [2007] that does not look like the one provided my LunarPages in late 2008, that I cannot change it, I am wondering if this might be part of the problem and if the hosting record is set automatically.