Sunday, April 07, 2019
Yesterday, I completed most of the work on a new interface which provides details about new services or resources added to WiredPages.
The interface, a Java Servlet is powered by the Facebook API.
Last year, Facebook defined new procedures for access to their APIs. In August 2018, when I originally sought access through the new procedures, I planned to provide event listings and details for the WiredPages Style & Events page.
In October 2017, I developed the first events Facebook API interface using the old access procedures, discussed in this post. The interface discussed in that post was never installed on WiredPages.
Last year, many changes were introduced to the Facebook API including depreciation of the Facebook Events API. So, I decided to post about new developments on the news service, to the WiredPages Facebook page and then use my newly established Facebook API access to provide details on What's New on the service. This weekend I finally decided to develop and install the new interface.
Originally, I planned to install the new interface on the Technology page (last), however decided last week to use the home page.
Email wiredpages @ qisoftware dot com if you have problems or suggestions.

Sunday, February 24, 2019
CareerOneStop offers a robust set of APIs for program development of career related tools and services.
Currently beta testing a new job search tool powered by one of CareerOneStop APIs. The following illustrates an initial look at the new tool and its features.
Current plans are to install an intermediate version on the WiredPages Employment page which may become permanent in the future.
The following is a live beta version of the new tool.

Your feedback is welcome, send an email to wiredpages@qisoftware.com.

Monday, November 05, 2018
With the holidays right around the corner, two new shopping related interfaces have been added to WiredPages & It's Personal.
The interfaces are powered by popular shopping networks which offer developers API access for tool development. The new QiSoftware tools are demonstrated via the following links.
Another QiSoftware tool which uses Amazon's Product Advertising API is demonstrated on the WiredPages Libraries page - the New York Times BestSellers.
Do you follow behind-the-scenes dealings with media executives and personalities? The WiredPages Media page has a new resource which provides headlines primarily associated with media personalities and executives.
Other plans for the Media page include:
FCC API Call Sign Station Search
NPR API Station Search w/ Live Playback
There are several new tool additions planned for WiredPages, so stay tuned.

Sunday, October 28, 2018
In 2011, I installed a tool on the WiredPages Reference page which provided USPS Postal Codes & the ZIP+4, along with latitude/longitude geo-coordinates for any address in the US.
Though the original data source continues to offer geo coordinates for any address in the world, the US Postal Codes are no longer available.
Over the summer (2018), I discovered the USPS offered API business services including:
Price Calculator
Verify an Address
Track a Package
Print a Shipping Label
Lookup Delivery Dates
Late last week, the interface I developed using the Address Verification API was installed in the main area of QiSoftware[.com] as a product demonstration.
The Address Verification API is sophisticated and can, upon request, provide business related address information, however the QiSoftware demonstration does not allow for the optional input of the business name as part of the query submission to the API.
As shown in the above illustration, the new interface also provides the geo-coordinates and now also- the Google Static Map for the address.
Why not reinstall the new interface on the WiredPages Reference page? Simply a matter of preference. When I initially installed the "PlaceFinder" tool on WiredPages, bloggers were using different services that required geo-coordinates1. The intent was to provide an easy means to retrieve latitude/longitude coordinates.
QiSoftware offers customized software solutions to assist business owners with everyday needs. The USPS Web Tools® APIs offer useful data specifically geared toward business owners. How do you want your data?
1 Latitude/Longitude can be entered in the <meta name= .... /> area of the <head> .... </head> section of an "HTML" file.

Sunday, October 14, 2018
Work continues in an effort to provide entertainment level services for visitors to the WiredPages Style & Events page.
The latest addition to the page, an Eventful API powered interface allowing visitors to search for events anywhere in the world.
Eventful is an online calendar and events discovery service owned by Entercom. The service allows users to search for and track upcoming entertainment events in their area...
PageSix also includes a Facebook Plugin providing "notable events" both here and elsewhere. Extensive research goes into providing links for the events listed, so if you have a notable event and would like consideration-- provide the Facebook Event in a message via the WiredPages Facebook Page. Not all events are listed, however suggestions are welcome.

Sunday, September 23, 2018
Visitors to the WiredPages Employment page can now obtain information related to wages for a specified occupation and US location.
The new tool is a Java Servlet powered by a Department of Labor resource through the CareerOneStop website. The screengrab (below) illustrates the tool running in standalone development mode.
The data is presented in percentiles and based on prior year data collection.
Briefly, Wikipedia's definition of Percentile

A percentile (or a centile) is a measure used in statistics indicating the value below which a given percentage of observations in a group of observations fall. For example, the 20th percentile is the value (or score) below which 20% of the observations may be found.
Below, illustration of how the new tool appears on the Employment page.
CareerOneStop and the Department of Labor offer many useful online tools for job hunters and researchers.

Wednesday, August 29, 2018
Are you a business owner? Have you claimed your Yelp Business page?
The WiredPages Dining & Travel page now boasts a new tool, Yelp Reviews.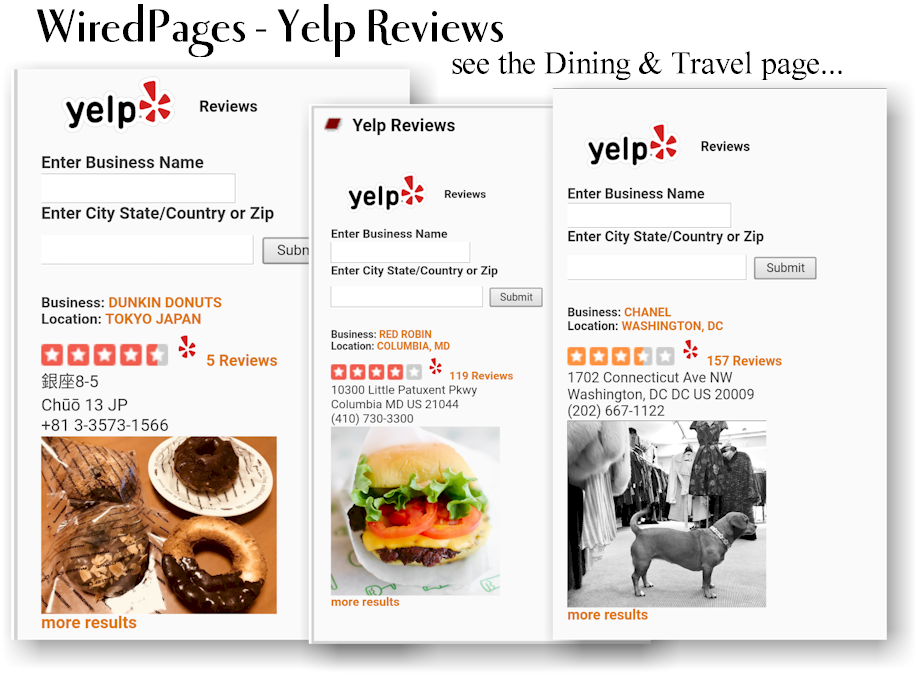 The Yelp API offered several options for custom program development, or business owners may want to install pre-defined HTML snippets which will produce custom Yelp Badges for use on business sites. This is a great promotional tool if your business is well received.
During the development phase of this project, I noticed unicode escape characters in some of the "json" results data. This mainly, when requesting international business locations.
The Java Servlet used in this implementation was adapted to transform the Unicode escape sequence to the international character being represented, for display results.
Yelp, is a great resource for business owners, business patrons, and reviewers alike.

Monday, August 06, 2018
Plans are to add the popular online business review resource, Yelp to several pages of WiredPages.
Illustrated below, debug and preliminary app images, showing development progress on the new tool.
Technologies used in this implementation include; the Yelp API [graphQL] and a Java Servlet. Note, most WiredPages applications are Java Servlets.
Current plans to install the new tool on these WiredPages:
This application will be installed sometime in the future, though most of the work has been completed. Still remaining, minor adjustments to the appearance and user interface, however security issues the reason for the installation delay.

Saturday, July 28, 2018
With its inception, Instagram was [and is] one of the most popular online services. A little late providing demonstration of the API resources available with this popular service, however that will be corrected in short order- [now installed].
Illustrated below, demonstration of the new QiSoftware Instagram interface running in local mode in an Integrated Development Environment [IDE].
The demonstration interface is a very basic adaption using the API data, providing photos and links for the nine most recent Instagram posts. Customization options are available.
The interface is installed as one of the catalog demonstration apps, in the main site area of QiSoftware.com.

Wednesday, December 20, 2017
One of the many software services QiSoftware supports, custom tool development using Application Program Interface (API) resources. Refer to this list for some of the supported APIs and demonstrations.
Many major online services, i.e., Google, Yahoo, Facebook (just to name a few), offer API hooks to allow developers and web site owners an easy means to incorporate their data.
Over the years, QiSoftware has developed many tools using API services with one glaring oversight, Facebook. In October 2017, after a bit of research the first Facebook API tool was developed, as discussed in this post.
Recently, in preparation for major updates to the WiredPages News Service, I developed a new interface that incorporates the WiredPages Facebook Page, related events, and Facebook API. To populate the WiredPages Facebook Events Page, I scour Facebook for noteworthy national and international events.
Shown in the illustration below, the earlier Facebook Events tool for my local business community (Hanover, Maryland), the new WiredPages interface and the Facebook event page for one of the listed events (Warner Theater's "The Nutcracker") shown in the results on the WiredPages tool.
Note, the tool demonstrations are running in local mode and powered by my IDE (Netbeans). As mentioned, major updates are in the works for WiredPages, however I am still no closer to providing a more accurate time frame for when the updates will go into production [online] mode.

Saturday, October 07, 2017
Several years ago, because of exponential business growth in our area, I decided to create a Facebook Business Page [2010] providing details about the business community. See this link.
When the Maryland Live Casino opened in 2012, I started doing more with the page, including:
Photos & Videos
A weekly post about a local business.
Added several tabs providing various resources about the area for visitors.
Researching local events for inclusion to the page.
I also registered a .org domain to use with the page, however I have yet to set it up. That said, I wanted to start building tools and resources to use with an external site. Two ideas I thought may be useful for the new .org domain; [1] a business directory and [2] a list of upcoming area events.
Today, I completed most of the major work on a Java Servlet that uses the Facebook API to provide the list of Events associated with the page. The illustration shows the Servlet running in local mode on my Macbook.
Note: only using 3 earliest events [updated this image].
I am not sure when the new interface will go into production, however I am pretty happy this project is mostly done [custom formating and fine tuning the remaining tasks]. Over the years, I have done one or two things with Facebook as a developer, however not a lot. This project gave me the opportunity to take a good look at the Facebook API and I am glad I did.

Friday, February 17, 2017
In April 2011, I developed a political interface allowing visitors to the WiredPages Government & Education page, the ability to query for political officials based on a United States address.
Illustrated in this post, how the interface used to look on the page.
Almost from the very beginning there were issues with the initial version of the interface, mainly because it required three entirely different input resources- to generate the data.
The initial resources included:
Sunlight Labs
VoteSmart
Yahoo
In 2013 or so, I stopped trying to maintain the political officials interface and then of course, the hosting-q.com domain moved to a new IP which caused a security risk for all of the tools I maintain on that domain.
Rather than update my security triggers, I decided to allow most of the tools hosted on hosting-q.com to use the "unauthorized use" message. That said, many of the tools still work-- [I can run them from my local environment]- however I will not update the online versions until I can secure my domains. I am not sure when this will happen.
In any case, yesterday morning I found a service that offers the political data as part of their API offerings-- and decided to implement a new interface. This is how the new interface looks- running in the local environment [via NetBeans] on my Macbook.
Also shown, part of the data returned from the API service. As I have indicated on a number of occasions, I am not sure when I will install the new interfaces I have been updating or rewriting entirely, however I am ready to go if I resolve my domain security issues.

Tuesday, February 14, 2017
Those who read my personal blog [It's Personal], know that I maintain a Facebook Page for Hanover, MD Businesses which attempts to highlight the many businesses & happenings in my hometown.
Hanover, Maryland these days seems more like an ever growing metropolis, rather than the mid-size town I moved to in 1996.
There are several reasons for this...
Arundel Mills [huge outlet mall that hosts big outlets for major retailers like Neiman Marcus and Saks Fifth Ave] opened in 2000. See a complete list here.
Maryland Live! Casino opened in 2012
Proximity to Fort Meade and the National Security Agency.
It also does not hurt that an international airport, BWI is less than 5 miles away.
When I started the FB Hanover, MD Business Page in 2010, I thought I would connect with other business owners in the area, even though my business, QiSoftware is listed with a Columbia address.
In 2013 or so, I started listing websites and Facebook pages for the businesses or events in the area.
New features that I want to add to the pages include:
Hanover, MD Jobs, currently the "Use App" button on the Facebook page
Area Events, The Casino and RamsHead Stage often offer headliners.
Real Estate, another area that has grown quite a bit.
To that end, today, I built two new interfaces that I will eventually integrate as page tabs for the FB Hanover MD Business page. One offering, area jobs as provided by Indeed, and the other, area events offered by Eventful.
Shown below, the new servlets running in stand-alone mode on my Macbook. Just behind the two windows showing the output from each, is the Netbeans IDE which is providing the local server I use for implementation, testing and debug for most of the software I develop.
There are several restrictions when integrating widgets and interfaces on Facebook pages, including size restrictions and using resources from secure sites. Neither of my sites, qisoftware.com nor hosting-q.com uses SSL certifications, however I hope to incorporate this feature to one or both of the sites- sometime in the future.
In the meantime, I do have other options for installing the new interfaces to the Hanover MD Business Page-- as a tab on the Facebook page, however want to hold off to investigate as many options as possible. Hopefully, I will have these new interfaces in place in the near future.

Friday, September 30, 2016
Last week I finished populating the Celebrity Birthday Database I maintain locally on my Macbook. It was a manual process, in that I no longer maintain the database online for security reasons.
In the past, the WiredPages Style and Events page used the data within a Java Applet to provide visitors with the current Celebrity Birthdays.
Initially, I developed a JDBC servlet which on a daily basis- extracted the data from a source and then inserted the data to my online database. About 3 months before retrieving all of the data for a complete year of celebrity birthdays- I made a mistake and deleted most of the records. The most recent backup was missing about a month of the records.
Also when I checked the online database, I found the data was corrupt. Birthdays that I had intentionally deleted, [that first year I checked every day to insure the data being inserted would be useful to WiredPages visitors and therefore manually deleted some of the records my software inserted]-- were somehow reinserted. I know this was malicious because of the birthdays selected for reinsertion.
I maintain several databases I custom built for WiredPages, and the Celebrity Birthday Database perhaps the most valuable in that the data was mined from a credible source-- initially with software.
Because of the security issues with both the idea of theft of the database and the insertion of data I did not want, I chose not to leave a credible database online at the current location.
My plan was/is to move the entire site to a more secure host and create and build the new version online from the Celebrity Birthday Database I maintain on my Macbook.
I have been planning this move for awhile. Right now, mainly hoping that DOJ and others help with the resolution of the many legal issues involved with my business and personal affairs.
So though I try to do very little in the way of coding, and even less in the way of updating anything online-- I did do a little work today.
I am moving away from the Java Applet and starting to work on new interfaces that provide the same data to WiredPages' visitors without the Applet. In the future, I will continue to use Java-- however mostly only Java Servlet technology. This will be more friendly for mobile devices and the newer browsers being used with the latest releases of operating systems, i.e., Windows 10, Chrome, etc..
Shown below-- my work environment today, including my IDE, local Database Management Software and a Firefox browser window showing how the new Celebrity Birthday Interface will look. The interface is shown in stand alone mode-- however will be easy to integrate on the WiredPages Style & Events Page when I decide to move everything online.

I was so pleased to complete the insertion of the remaining records to the local Celebrity Birthday Database earlier in the week, I could not wait to rewrite the JDBC Servlet interface to access the data. I really miss coding and researching new ideas for WiredPages. I hope to get moving on other updates in the near future, however wanted to provide some of the details involved.

Monday, July 13, 2015
Recently, an API source touched base about changes that will go into effect mid August 2015, as related to usage of their offerings.
As many of you may be aware, because of security issues I have done little to update the underlying code for widgets and applications I maintain on WiredPages and other areas of the QiSoftware site [qisoftware.com].
I am still hoping that my issues, as related to Washington will resolve themselves so that I can move on -- and move my sites. There is really no point in updating software and site functionality before such time.
That said, yesterday I did update the code for the API data source in question, based on the recommendation of the source-- and then tested the code.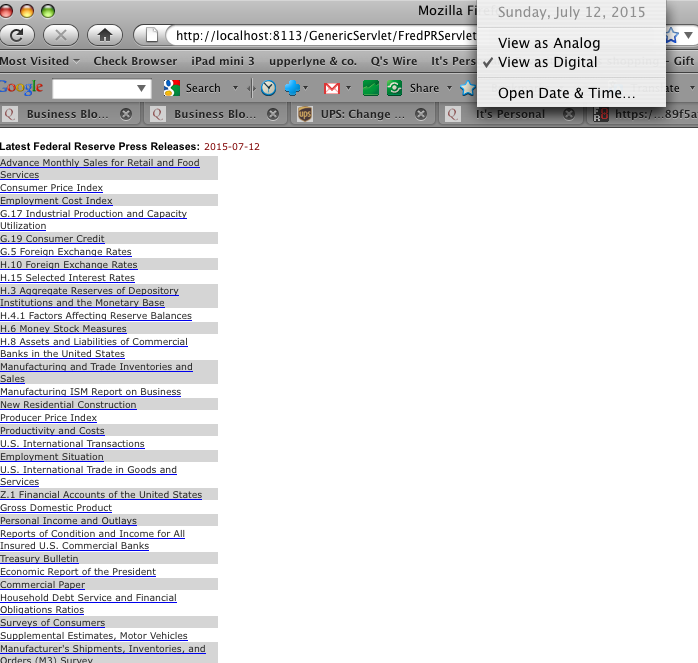 It felt great to fire up my IDE [Netbeans] and work on a programming issue, though the issue very minor in nature.
No, I did not install the new Java Class file for the updated code. As I explained in an earlier post, when I write mini applications and widgets for WiredPages and other areas of qisoftware.com-- I secure them to my server's IP address-- so that no one else can run the widget/application from other domains. Some may have noticed the "No Authorization" message.
Awhile back, my web hosting platform-- changed the IP address for the hosting-q.com domain where I maintain most of the servlets for my applications. This looked suspicious because of the timing and why they may have wanted me to change the IP address within the security section of my code. I chose not to update the code with the new IP address thinking this would be over any day... That is still the premise- "this will be over any day". I will update all of the applications and widgets when I move my domains to new servers. Hopefully, when this ends.
DOJ/FBI, some I feel are having a hard time with-- no.. Please help them to get off my sites. Check tapes from July 12th, 2015. Thank you.
This post mainly to remind visitors and US Government employees-- my position on these matters. I said no. New Bag Reference

Thursday, March 13, 2014
As you are aware, over the years I have developed a myriad of Web 2.0 tools and widgets for use on WiredPages. Over the last two years several tools have become inoperable because the resources I used to power the tools no longer work the way they did when I wrote the individual interfaces.
The reasons I do not update code in this time period-- are well documented. Legal issues with Washington are unresolved and the security of my working code would be at risk. Many of the repairs were easy because I have all of my old source code and I have already researched ways to correct the problems.
That said, over the weekend I received notification from my qisoftware.com web hosting provider that the IP address for my domain would be changing. I thought there would be a problem, in that I include a security feature in most of programs that disables the program if it is not being served up from one of my sites [hosting-q.com and qisoftware.com] via the respective IP addresses that were assigned when I originally wrote the code.
Yesterday, most of the widgets went dead. They are not really dead, they simply will provide a "not authorized" message insofar as usage because the IP address changed for qisoftware.com.
The IP change has also affected the Amazon Widget I developed for the It's Personal Blog. All versions of the Blogger Calendar remain operational.
At this time, I have no plans to make the necessary minor updates to the underlying source code for the programs to make the tools operational again. It is more related to security issues.
This note, simply to explain the issues involved. There is also a blog post [dated March 9th, 2014-- I try not to link to Q's Wire in that someday I hope to remove that personal blog from qisoftware.com] on Q's Wire that discusses the IP change and what would most likely happen.

Wednesday, May 29, 2013
It's been a long year and its time to move on. I hoped that I would be moving qisoftware.com-- but things have not gone as planned. I am told DOJ is still working the issues.
In the meantime, I have been researching the issues with WiredPages. My recent request to have the iTunes affiliate reinstated for WiredPages was granted so -- the iTunes search widget on the Entertainment page, is again working.
I am also going to again start reporting Amazon Affiliate stats-- on this blog as well as It's Personal. I am told-- a recent ad-- placed on It's Personal- was a success [300+ units sold]- however not reflected in my stats. I am not sure why. Even more incredible-- I am given the real stats as if to taunt.
Things in disrepair on WiredPages:
The GeoPlace widget on the Reference page.
Congressional Rep. interface
World Weather Tool
Currency Converter [Dining & Travel]
Horoscopes [Entertainment]
Market Bug [Home & Business pages]
CIA World Fact Book Interface [Reference]
Dictionary Widget Slow [Reference]
I have fixes for most of the issues-- however have been hesitant about implementation because of on going problems-- documented in-- Q's Wire and It's Personal.

Monday, April 15, 2013
I noticed on Saturday, April 13th, 2013 the AP news feeds on WiredPages were working again. There was a blockage problem. I did not update code- and have explained many times-- I am not updating code until I move to a new server.
I also noticed on Saturday, the World Weather tool is no longer working though intermittently before Saturday. Again, this problem will not be corrected until I move to a new server.

Friday, November 16, 2012
This morning I ran tests on my local version of the World Weather Tool. I know I said I was not doing this- but wanted to check into it anyway. Works fine. Here are some screen grabs.
>
The malfunction of this application online appears to be because someone has installed a version other than mine. Yes, when I first noticed this problem I did reinstall the associated applet and servlet files-- however at the time it did not work. I was sure I cleared my applet buffers just in case. Tampering with my files is unauthorized and I have asked the proper authorities to look into it- over and over.

Friday, September 28, 2012
Overnight the AP News interfaces installed on several WiredPages along with the World Weather Tool on the homepage-- went into disrepair. In that I want to move qisoftware.com to a dedicated server sometime in the future-- I have decided to allow things like this to go for now.
Why keep the site online if I am planning to do this? As I have indicated before-- I do plan on revamping the entire news service however I am not interested in writing or updating code for an IP that I will discontinue using sometime in the future. My code is tied to IPs and domains to prevent others from using it. Updating code at this time would be a stupid security mistake on my part and I have decided to let it go for now.
FYI-- Limited updates will be tested offline and be readied for online production when I get the sites moved. I repeat limited.

Tuesday, July 24, 2012
The feed for my horoscopes widget is not updating in a timely manner therefore-- the widget is not providing the current day's horoscopes.
The feed updates around 5:00 pm each day [for the current day]. This post just to provide I am aware of the problem-- however it is at the feed source and nothing I can do on my side, i.e., fix broken software. Not a problem with the software.

Saturday, July 14, 2012
Awhile back, I noticed some of the video selections returned from the YouTube Music Search Widget [offered here], were unplayable because the frame window was too small.
I have corrected this problem within the software and it should work for most of the videos returned from the search. Let me know if you have problems-- contact.