Sunday, February 05, 2023
I started my small business (QiSoftware) in September 2004 as a sole proprietorship using a Maryland Trade Name application to setup the business entity.
The type of business I setup is the easiest form- however, only provides the DBA (doing business as) form of business.
In my case, because I offer software consulting and development services- I file taxes at both the Federal and State levels reporting income or salary from these services as an individual taxpayer. In other words, I do not apply taxes to these services nor do I file separate business tax returns for these services.
In February 2021, the Maryland Digital Advertising Tax law was enacted however has run into any number of issues. Since I do offer online digital advertising services, however nowhere near the $1,000,000 in gross receipts the law currently requires for compliance, I only file the income as an individual taxpayer which is allowable under Maryland law.
That said, in September 2021 because I opened my online ecommerce shop (WiredShops), I applied for and was granted a Maryland Sales & Use Tax Number. I file business tax returns every quarter.
I am a software developer, so when I decided to open my shop, I set it up using OpenCart on a domain I registered rather than using a service like Shopify. Popular ecommerce services like Shopify charge monthly fees, however allow shop owners to automatically connect and display inventory from suppliers who have existing relationships with the services.
My supplier, in addition to automated connections for services like Shopify, also offers an API which allows me to connect (not as automated) to my OpenCart shop. Because my shop is not so automated, services like QuickBooks, PayPal, Zettle by PayPal, and my business bank which allow for automation with inventory and payments, can ease some of my reporting concerns.
Once my shop is more established, I plan to use QuickBooks to handle most of my business reporting and tracking needs. Why? It is used by almost every major service- even OpenCart has a plugin.
A big concern for me- recently, Maryland sent a notice requesting delinquent quarterly tax filings for my Maryland Sales & Use number. Since I have not done much with the online shop, this was an easy issue to correct, however if and when the shop becomes more established, I will use QuickBooks to handle proper tax reporting.
Thinking about taxes, as I have explained- I file the same individual tax returns for both business and personal taxes, however mark every transaction as either a business or personal expense. I file my returns with confidence. Are you ready for the tax season?

Interested in learning more about how QuickBooks can help you to run your small business?

This video link explains many of the benefits QuickBooks offers to small business owners.
QiSoftware is very happy to be a QuickBooks Business Affiliate.

Thursday, December 22, 2022
One of the tasks I wanted to complete by the end of the year was to install the FCC Station License Query app on the WiredPages Media page.
An earlier discussion of the FCC Station License Tool is found on my personal blog (It's Personal) in an August 2021 entry.
Illustrations of sample queries, additional station information found on the FCC site by following app provided links (part of the search results), and the overall look of the tool are shown below:
The illustration below, shows the application installed on the WiredPages Media page.

You will notice slight differences in the overall appearance of the tool from that of the screen-grabs (shown in the first illustration above) taken when I was testing the app in my development environment to how the tool now looks, installed on the page.
Monday, September 05, 2022
For the last six months, Google Analytics has shown the notice illustrated in the following graphic as related to the network of QiSoftware sites.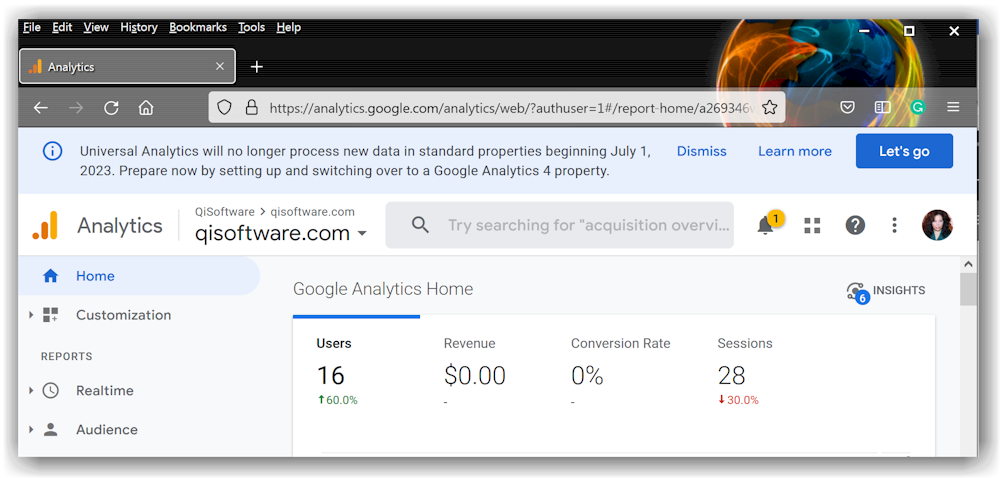 As related to analytics, all QiSoftware sites (see below) are listed as part of the same network, with Google. QiSoftware sites and subdomains using Google Analytics include:
Since WiredShops and ReginaThomas.studio are sites installed within the last year, the Google Analytics 4 tags were automatically created when I registered the new domains with my Google Analytics account. In both cases, because other services use Google Analytics as the source for their statistical data, however have yet to make the switch to G4, I had to also setup the old universal tags to ensure the new sites were found.
In addition, recent updates to the Google Admanager resource now allow users (you or your organization may use an online ad manager service to perform these tasks) to list all sites and subdomains setup using the Google Analytics 4 (G4) tag for each related Admanager account.
Illustrated in the following graphic, newly listed QiSoftware sites with the Google Admanager account.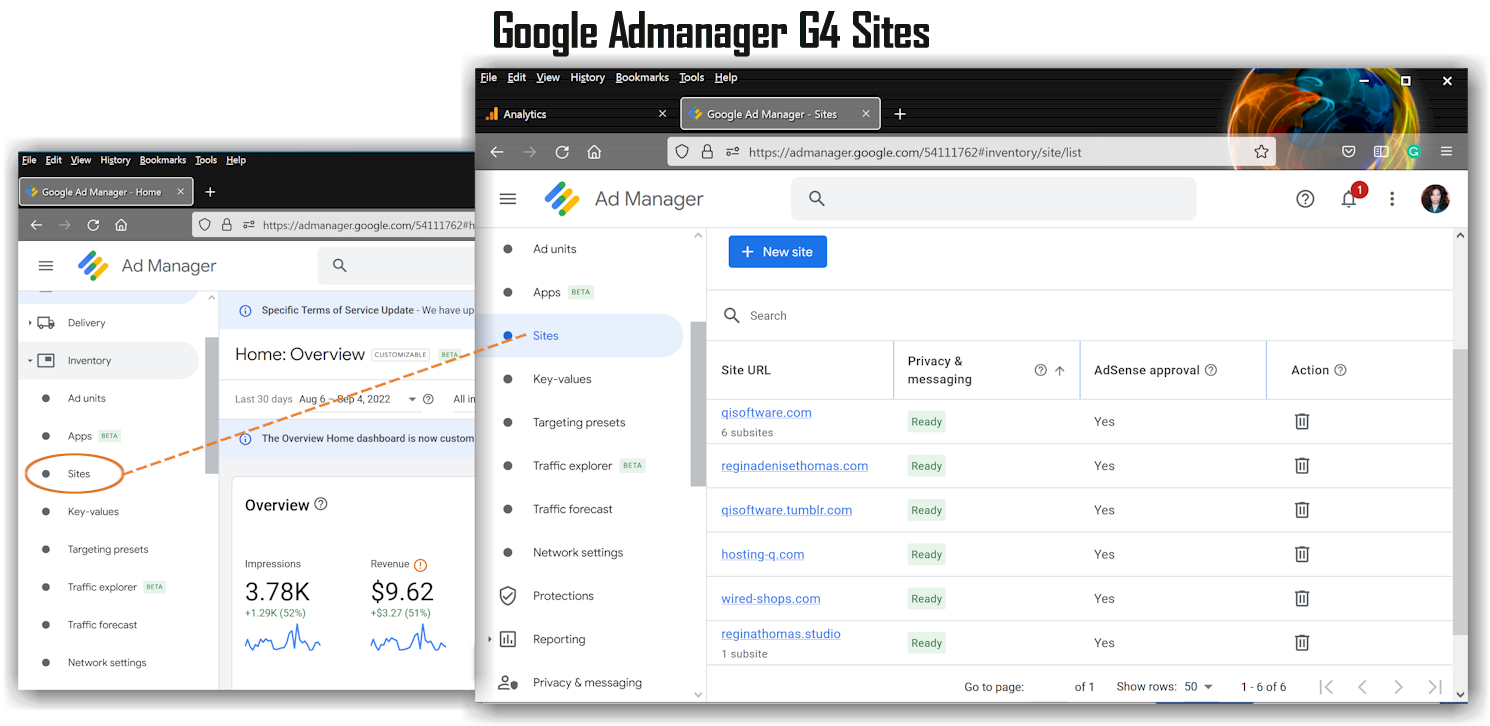 Are your sites G4 ready?
Wednesday, February 16, 2022
QiSoftware uses header bidding, Google Adsense, and affiliate marketing to facilitate advertising requests on the many areas and subdomains of the site. Other QiSoftware owned online assets, i.e., reginadenisethomas.com, wired-shops.com, etc. use only Google Adsense or affiliate marketing.
Sunday, June 06, 2021
QiSoftware uses Thingamablog as the content management system (CMS) for most of the site's active blogs. That includes, this blog (Remix), and It's Personal.
This entry provides a "howto" on adding comments and "read more" options to Thingamablog posts.
Friday, May 07, 2021
Occupation wage data for 2020 is now available from the U.S. Department of Labor through their CareerOneStop site.
The illustration below provides salary data for lawyers in the Washington, DC area for the years 2017, 2019 and 2020.
The newly updated information, is provided via the Occupation Wage Data resource found on the WiredPages Employment page. The tool which was developed and installed on WiredPages in 2018, is powered by the CareerOneStop API.
More about the WiredPages offering can be found in this earlier post.