Wednesday, March 02, 2016
Over the past year or so, Amazon has added new incentives to its Associates Program, as well as discontinuing some of the services that have been around for awhile.
Some of these changes include:
Native Shopping Ads
Amazon CPM Ads have been around since 2014.
Amazon Widgets are no longer available.
Listmania Lists are no long available for incorporation in an aStore Category.
Since the Spring 2015, Amazon has been offering "Home Services" giving associates a wider range of products to offer- that may require additional servicing after delivery. See more on Amazon Home Services here.
Recently, I took the opportunity to look into the Amazon CPM Ad Network and integrated specified ad codes in more popular areas of the qisoftware.com site, i.e., the blogs.
The ads have been running for about a day, however I was able to review performance reports based on almost "real time" [delayed in most cases by no more than 4 hours] reporting.
I also use the Amazon Product Advertising API, however because of a security risk with triggers I build into my code/widgets, I have discontinued their use for now. Sometime in the future, I hope to re-establish this important monetization feature for the WiredPages area [sub-domain] of qisoftware.com.

Saturday, September 26, 2015
Recently, I downloaded the Google My Business App to my android.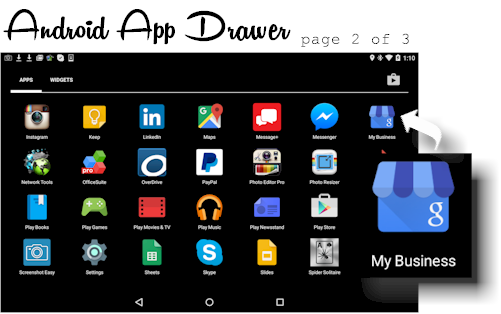 Though I maintain business profiles on sites like LinkedIn and PayPal, I have done little with Google's business resources other than- note my business site and address can be found via their search tools.
After downloading, I updated my business information via both the Google My Business App and using a web browser on one of my PCs. Quite frankly, I did not know Google offered these resources for business owners, even though I use several of their tools, e.g. AdSense, Analytics, Webmasters Tools, etc.
Shown below, both the android app and the web page version where you can also update your business information.
The resource also provides Insights about your online business presence. If you are already using Google Analytics [with your business site], some of the information may overlap that- offered by the Insights. Information about your Google+ [Googleplus] posts, is also provided.
Read more about the "Google My Business" resource here:

Friday, September 18, 2015
qisoftware.com and the associated sub-domains use several metric services to measure site analytics and traffic, including:
Google Analytics
Quantcast
Compete
ShareThis-- recently stopped offering analytics services, however qisoftware.com source pages still show the old scripts.
Alexa
I have been using these services for some time, however tend to get around to adding new definitions or isolation parameters in a haphazard non-timely manner, especially where Google Analytics is concerned.
For instance, most sub-domains of qisoftware.com- gather and report information using the same top-level Analytics tracking code as that used by the main domain- www.qisoftware.com.
What this means? It is harder to separate and visualize www.qisoftware.com traffic from let's say- traffic to this blog [remix.qisoftware.com].
Sometime ago, I added a separate tracking code for "It's Personal", my personal blog at personal.qisoftware.com mainly to experiment. Up until recently, I had separate tracking codes for the following qisoftware properties:
qisoftware.com
hosting-q.com
personal.qisoftware.com
qisoftware.tumblr.com
As noted by the following illustrations, a couple of days ago [Wednesday, Sept 16, 2015], I added a separate tracking code for Remix the sub-domain remix.qisoftware.com [this blog].

I also had to make minor updates to the underlying theme for my Thingamablog Template and update one of the Custom Tags. Illustration shows the Thingamablog application where these updates are used:
Remix [this blog], is not as popular as some of the other areas of qisoftware.com, and as of today, showing "temporarily unavailable" for data being received by Google Analytics. Below, I am showing illustrations from the Google Analytics App of both It's Personal tracking and the new Remix.
When I move the site, and make necessary changes to both WiredPages and the NS&J Forums, I will add separate tracking codes for these areas too. Most of my site's [qisoftware.com] areas use ecommerce ads and tools-- so I am hoping these more specific tracking codes for each area will help to produce more insights for better site monetization.

Monday, July 13, 2015
Recently, an API source touched base about changes that will go into effect mid August 2015, as related to usage of their offerings.
As many of you may be aware, because of security issues I have done little to update the underlying code for widgets and applications I maintain on WiredPages and other areas of the QiSoftware site [qisoftware.com].
I am still hoping that my issues, as related to Washington will resolve themselves so that I can move on -- and move my sites. There is really no point in updating software and site functionality before such time.
That said, yesterday I did update the code for the API data source in question, based on the recommendation of the source-- and then tested the code.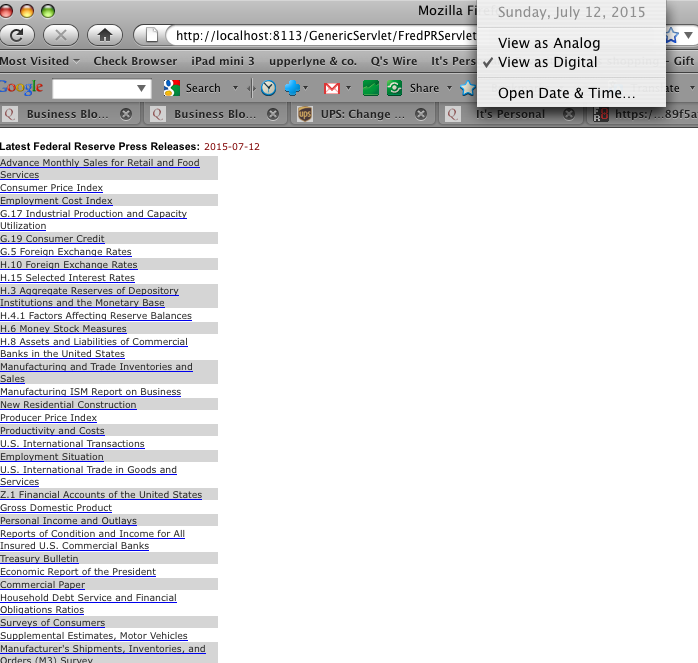 It felt great to fire up my IDE [Netbeans] and work on a programming issue, though the issue very minor in nature.
No, I did not install the new Java Class file for the updated code. As I explained in an earlier post, when I write mini applications and widgets for WiredPages and other areas of qisoftware.com-- I secure them to my server's IP address-- so that no one else can run the widget/application from other domains. Some may have noticed the "No Authorization" message.
Awhile back, my web hosting platform-- changed the IP address for the hosting-q.com domain where I maintain most of the servlets for my applications. This looked suspicious because of the timing and why they may have wanted me to change the IP address within the security section of my code. I chose not to update the code with the new IP address thinking this would be over any day... That is still the premise- "this will be over any day". I will update all of the applications and widgets when I move my domains to new servers. Hopefully, when this ends.
DOJ/FBI, some I feel are having a hard time with-- no.. Please help them to get off my sites. Check tapes from July 12th, 2015. Thank you.
This post mainly to remind visitors and US Government employees-- my position on these matters. I said no. New Bag Reference

Wednesday, August 20, 2014
QiSoftware, a legal business entity in the State of Maryland was recently renewed for another 5 years. See this link for the previous reference.
Recent changes on Maryland's Online Business Search site have voided the old links I maintained on this blog which provided quick access to QiSoftware business information maintained by the state.
To access the information now, click on this link and use either the Entity Name "QiSoftware" or Department ID="T00212348" option from the pull menu [lower page area] to review the business information for QiSoftware.


Thursday, March 13, 2014
As you are aware, over the years I have developed a myriad of Web 2.0 tools and widgets for use on WiredPages. Over the last two years several tools have become inoperable because the resources I used to power the tools no longer work the way they did when I wrote the individual interfaces.
The reasons I do not update code in this time period-- are well documented. Legal issues with Washington are unresolved and the security of my working code would be at risk. Many of the repairs were easy because I have all of my old source code and I have already researched ways to correct the problems.
That said, over the weekend I received notification from my qisoftware.com web hosting provider that the IP address for my domain would be changing. I thought there would be a problem, in that I include a security feature in most of programs that disables the program if it is not being served up from one of my sites [hosting-q.com and qisoftware.com] via the respective IP addresses that were assigned when I originally wrote the code.
Yesterday, most of the widgets went dead. They are not really dead, they simply will provide a "not authorized" message insofar as usage because the IP address changed for qisoftware.com.
The IP change has also affected the Amazon Widget I developed for the It's Personal Blog. All versions of the Blogger Calendar remain operational.
At this time, I have no plans to make the necessary minor updates to the underlying source code for the programs to make the tools operational again. It is more related to security issues.
This note, simply to explain the issues involved. There is also a blog post [dated March 9th, 2014-- I try not to link to Q's Wire in that someday I hope to remove that personal blog from qisoftware.com] on Q's Wire that discusses the IP change and what would most likely happen.