Monday, July 13, 2015
Recently, an API source touched base about changes that will go into effect mid August 2015, as related to usage of their offerings.
As many of you may be aware, because of security issues I have done little to update the underlying code for widgets and applications I maintain on WiredPages and other areas of the QiSoftware site [qisoftware.com].
I am still hoping that my issues, as related to Washington will resolve themselves so that I can move on -- and move my sites. There is really no point in updating software and site functionality before such time.
That said, yesterday I did update the code for the API data source in question, based on the recommendation of the source-- and then tested the code.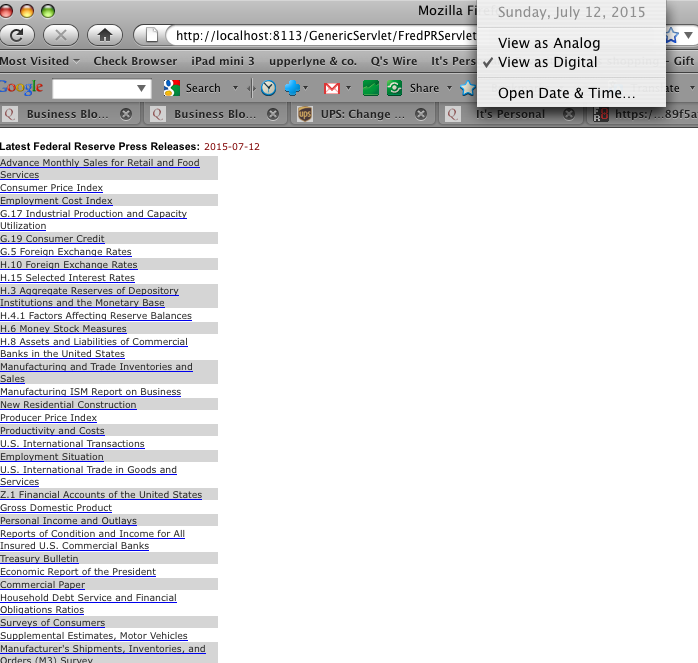 It felt great to fire up my IDE [Netbeans] and work on a programming issue, though the issue very minor in nature.
No, I did not install the new Java Class file for the updated code. As I explained in an earlier post, when I write mini applications and widgets for WiredPages and other areas of qisoftware.com-- I secure them to my server's IP address-- so that no one else can run the widget/application from other domains. Some may have noticed the "No Authorization" message.
Awhile back, my web hosting platform-- changed the IP address for the hosting-q.com domain where I maintain most of the servlets for my applications. This looked suspicious because of the timing and why they may have wanted me to change the IP address within the security section of my code. I chose not to update the code with the new IP address thinking this would be over any day... That is still the premise- "this will be over any day". I will update all of the applications and widgets when I move my domains to new servers. Hopefully, when this ends.
DOJ/FBI, some I feel are having a hard time with-- no.. Please help them to get off my sites. Check tapes from July 12th, 2015. Thank you.
This post mainly to remind visitors and US Government employees-- my position on these matters. I said no. New Bag Reference

Wednesday, August 20, 2014
QiSoftware, a legal business entity in the State of Maryland was recently renewed for another 5 years. See this link for the previous reference.
Recent changes on Maryland's Online Business Search site have voided the old links I maintained on this blog which provided quick access to QiSoftware business information maintained by the state.
To access the information now, click on this link and use either the Entity Name "QiSoftware" or Department ID="T00212348" option from the pull menu [lower page area] to review the business information for QiSoftware.


Thursday, March 13, 2014
As you are aware, over the years I have developed a myriad of Web 2.0 tools and widgets for use on WiredPages. Over the last two years several tools have become inoperable because the resources I used to power the tools no longer work the way they did when I wrote the individual interfaces.
The reasons I do not update code in this time period-- are well documented. Legal issues with Washington are unresolved and the security of my working code would be at risk. Many of the repairs were easy because I have all of my old source code and I have already researched ways to correct the problems.
That said, over the weekend I received notification from my qisoftware.com web hosting provider that the IP address for my domain would be changing. I thought there would be a problem, in that I include a security feature in most of programs that disables the program if it is not being served up from one of my sites [hosting-q.com and qisoftware.com] via the respective IP addresses that were assigned when I originally wrote the code.
Yesterday, most of the widgets went dead. They are not really dead, they simply will provide a "not authorized" message insofar as usage because the IP address changed for qisoftware.com.
The IP change has also affected the Amazon Widget I developed for the It's Personal Blog. All versions of the Blogger Calendar remain operational.
At this time, I have no plans to make the necessary minor updates to the underlying source code for the programs to make the tools operational again. It is more related to security issues.
This note, simply to explain the issues involved. There is also a blog post [dated March 9th, 2014-- I try not to link to Q's Wire in that someday I hope to remove that personal blog from qisoftware.com] on Q's Wire that discusses the IP change and what would most likely happen.

Saturday, January 11, 2014
Sometime ago, the official forums for Thingamablog were closed.
I myself know- that forums are an expensive resource to maintain online, so it was with sadness I learned this resource would no longer be available for Thingamablog users.
Novice users of the blogging platform may have been especially put off by this turn of events, in that- Thingamablog is blogging software that is maintained on a user's personal computer and all issues with its operation are left to the user. That said, it is not hard to put the software into operation [Linux, Mac, Windows] nor maintain once operational, however issues do arise.
This is why I am excited to announce- the Thingamablog Wiki page now lists the Thingamablog Facebook Group amongst the External Links.
This is a forum group, I hope will help users of this blogging software with all sorts of issues.
I have been contacting others to ask for their support of this group, including:
Users of the Blogging Platform
Web Designers
Software Experts and Consultants
If you know of others that maybe interested in joining the Thingamablog Facebook Group, please let them know.

comments powered by

Disqus
Tuesday, October 08, 2013
A great way to gain exposure for your business is to write articles for other [online] publications. Organizations I also write for:
My latest off-site article, AACPL eBooks is for patch.com and discusses the local county library and their eBooks borrowing system.
If you are thinking of doing something similar, keep in mind-- editing your work is one of the most important factors. I tend to write a lot for my own sites/blogs, and find I am a bit more careful when writing for others. That said, I have allowed one or two mistakes to go uncorrected and can do nothing but cringe when this happens.
You may also want to save a copy of the browser page of your off-site article or snap a screen shot just in case. Most of us use automatic logins for accounts we use often and it is so easy to gain access to someone else's accounts when computers, notebooks and other personal devices are left unattended.

comments powered by

Disqus
Monday, August 12, 2013
I am a software consultant with lots of experience with computer hardware and software. So when I began my business in early 2000, the issues that most have insofar as what to get in terms of hardware and software to help run the business-- were thankfully not mine.
Over the years, I have made some good decisions in terms of computing support and hope to share with others my lessons learned. To that end, I have added a link to an Amazon aStore in this blog's sidebar-- that offers some help with computing and other business solutions for small and home businesses.
For those interested in Amazon's Affiliate program, I have written several articles on Amazon's Listmania feature [which I use on It's Personal]-- however this time I used the aStore feature and added individual products to a category list.
The difference in the two approaches in creating an Amazon aStore?
I do not need to be logged into my Associates account to update and publish a Listmania list. And when an updated list is published it is immediately reflected in my online store..
It is actually easier to create an aStore using a category and adding products-- but only because it is a bit confusing on how to setup a Listmania and associate it with an aStore.
My rumor mill suggests Amazon's Listmania feature may soon be obsolete -- and currently there is a problem updating the Listmania powering the It's Personal Store. I have a support email in the pipeline to Amazon on this issue. I will provide more details as I get them.