Sunday, September 23, 2018
Visitors to the WiredPages Employment page can now obtain information related to wages for a specified occupation and US location.
The new tool is a Java Servlet powered by a Department of Labor resource through the CareerOneStop website. The screengrab (below) illustrates the tool running in standalone development mode.
The data is presented in percentiles and based on prior year data collection.
Briefly, Wikipedia's definition of Percentile

A percentile (or a centile) is a measure used in statistics indicating the value below which a given percentage of observations in a group of observations fall. For example, the 20th percentile is the value (or score) below which 20% of the observations may be found.
Below, illustration of how the new tool appears on the Employment page.
CareerOneStop and the Department of Labor offer many useful online tools for job hunters and researchers.

Wednesday, August 29, 2018
Are you a business owner? Have you claimed your Yelp Business page?
The WiredPages Dining & Travel page now boasts a new tool, Yelp Reviews.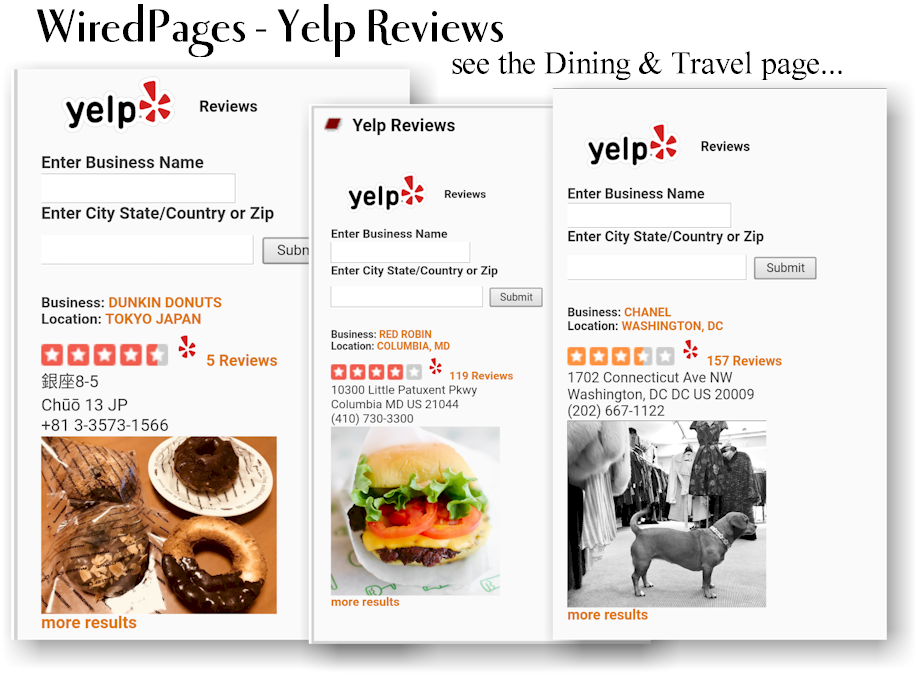 The Yelp API offered several options for custom program development, or business owners may want to install pre-defined HTML snippets which will produce custom Yelp Badges for use on business sites. This is a great promotional tool if your business is well received.
During the development phase of this project, I noticed unicode escape characters in some of the "json" results data. This mainly, when requesting international business locations.
The Java Servlet used in this implementation was adapted to transform the Unicode escape sequence to the international character being represented, for display results.
Yelp, is a great resource for business owners, business patrons, and reviewers alike.

Monday, August 06, 2018
Plans are to add the popular online business review resource, Yelp to several pages of WiredPages.
Illustrated below, debug and preliminary app images, showing development progress on the new tool.
Technologies used in this implementation include; the Yelp API [graphQL] and a Java Servlet. Note, most WiredPages applications are Java Servlets.
Current plans to install the new tool on these WiredPages:
This application will be installed sometime in the future, though most of the work has been completed. Still remaining, minor adjustments to the appearance and user interface, however security issues the reason for the installation delay.

Saturday, July 28, 2018
With its inception, Instagram was [and is] one of the most popular online services. A little late providing demonstration of the API resources available with this popular service, however that will be corrected in short order- [now installed].
Illustrated below, demonstration of the new QiSoftware Instagram interface running in local mode in an Integrated Development Environment [IDE].
The demonstration interface is a very basic adaption using the API data, providing photos and links for the nine most recent Instagram posts. Customization options are available.
The interface is installed as one of the catalog demonstration apps, in the main site area of QiSoftware.com.

Thursday, June 21, 2018
A recent project required business verification documentation for QiSoftware. QiSoftware is a registered business (search QiSoftware) in the State of Maryland.
Along with a scanned copy of the document Maryland sent when the business renewal process was complete in 2014 [original registration 2004], images similar to those illustrated below were also provided to the requesting organization.
These days, many organizations providing online resources are more likely to request business verification documentation from businesses and individuals requesting use of their data and resources.
Business bank accounts in most states, including Maryland have for sometime required business verification before accounts are opened. Everything is becoming more accountable.
There is also a QiSoftware Business Filing link in the sidebar of this blog under the "Pages" subheading.

Sunday, March 25, 2018
I have started work on WiredPages and the associated Business Directory.
Although there is a delay in published updates to the main areas of WiredPages, the Business Directory is being revised and updates are being published.
The following illustrates how other areas of qisoftware.com, promote the Business Directory.
Currently, work to both areas of WiredPages- involves installing new code snippets to the underlying html pages.
Updates to WiredPages tools & widgets are also in the works, however as indicated, the updates will probably not go online before the security issues are resolved.
The WiredPages Business Directory has always been manually edited and maintained. Automation tools and widgets never integrated, therefore no reason to hold off on updates to this area of the live site.