Friday, November 05, 2010
While perusing Freelancer gigs, I came across a project in which the client wanted a WordPress site to allow for movie reviews. He wanted to be able to play both YouTube and Vimeo trailers so this meant incorporating API hooks for both services and one additional WordPress plugin-- which probably meant some modification to the plugin to insure it worked. Very few WordPress plugins work straight out of the box for all platforms and browsers.
I went through some of the WordPress themes I have collected over the years and came up with several possibilities for the template base.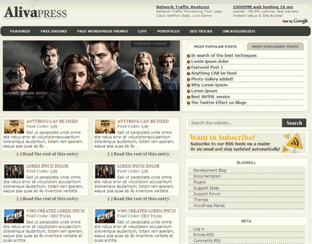 I also went through my Coral Gallery Clipart book- to see what if any images I could use with the selected theme.
The project had a budget of $250 and only 5-6 days to complete. Given I have looked at the YouTube API but not Vimeo's I was a little concerned with the time constraint. By the time I decided to bid-- the project was already frozen-- meaning the client had already accepted someone else's bid and awaiting the response.
I did not get this project-- however would love to help setup your WordPress site. Contact me for more information. Hosting-Q-- the web hosting service for QiSoftware-- also offers WordPress blog hosting.