Saturday, September 26, 2015
Recently, I downloaded the Google My Business App to my android.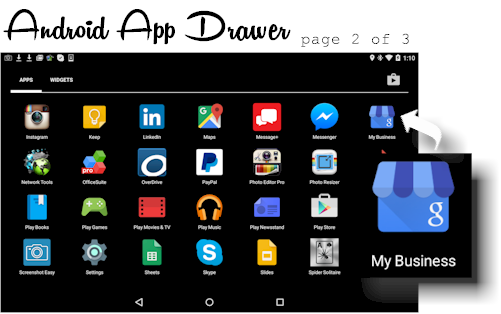 Though I maintain business profiles on sites like LinkedIn and PayPal, I have done little with Google's business resources other than- note my business site and address can be found via their search tools.
After downloading, I updated my business information via both the Google My Business App and using a web browser on one of my PCs. Quite frankly, I did not know Google offered these resources for business owners, even though I use several of their tools, e.g. AdSense, Analytics, Webmasters Tools, etc.
Shown below, both the android app and the web page version where you can also update your business information.
The resource also provides Insights about your online business presence. If you are already using Google Analytics [with your business site], some of the information may overlap that- offered by the Insights. Information about your Google+ [Googleplus] posts, is also provided.
Read more about the "Google My Business" resource here:

Friday, September 18, 2015
qisoftware.com and the associated sub-domains use several metric services to measure site analytics and traffic, including:
Google Analytics
Quantcast
Compete
ShareThis-- recently stopped offering analytics services, however qisoftware.com source pages still show the old scripts.
Alexa
I have been using these services for some time, however tend to get around to adding new definitions or isolation parameters in a haphazard non-timely manner, especially where Google Analytics is concerned.
For instance, most sub-domains of qisoftware.com- gather and report information using the same top-level Analytics tracking code as that used by the main domain- www.qisoftware.com.
What this means? It is harder to separate and visualize www.qisoftware.com traffic from let's say- traffic to this blog [remix.qisoftware.com].
Sometime ago, I added a separate tracking code for "It's Personal", my personal blog at personal.qisoftware.com mainly to experiment. Up until recently, I had separate tracking codes for the following qisoftware properties:
qisoftware.com
hosting-q.com
personal.qisoftware.com
qisoftware.tumblr.com
As noted by the following illustrations, a couple of days ago [Wednesday, Sept 16, 2015], I added a separate tracking code for Remix the sub-domain remix.qisoftware.com [this blog].

I also had to make minor updates to the underlying theme for my Thingamablog Template and update one of the Custom Tags. Illustration shows the Thingamablog application where these updates are used:
Remix [this blog], is not as popular as some of the other areas of qisoftware.com, and as of today, showing "temporarily unavailable" for data being received by Google Analytics. Below, I am showing illustrations from the Google Analytics App of both It's Personal tracking and the new Remix.
When I move the site, and make necessary changes to both WiredPages and the NS&J Forums, I will add separate tracking codes for these areas too. Most of my site's [qisoftware.com] areas use ecommerce ads and tools-- so I am hoping these more specific tracking codes for each area will help to produce more insights for better site monetization.